The ways of solving the problem of Ukraine's economy de-shadowing
Keywords:
shadow economy, reasons of shadow economy, taxation, methods of calculating the shadow economy
Abstract
Shadow economy is very common in the modern economy and inherent in any state, regardless of its level of socio-economic development.
The underground economy refers to economic transactions that are deemed illegal, either because the goods or services traded are unlawful in nature, or because transactions fail to comply with governmental reporting requirements.
Also called the underground, informal, or parallel economy, the shadow economy includes not only illegal activities but also unreported income from the production of legal goods and services, either from monetary or barter transactions. Hence, the shadow economy comprises all economic activities that would generally be taxable were they reported to the tax authorities.
A precise definition of the shadow economy, however, is quite difficult because the shadow economy develops all the time, adjusting to changes in taxation and regulations.
Shadow economy is a complex phenomenon that has become significant in Ukraine. This phenomenon in Ukraine is one of the main barriers to European integration, increasing competitiveness in the world market, improving living standards within the country. The presence of a shadow economy indicates the activity of illegal economic activity in the country, a high level of corruption in the public sector, a low level of legal and tax morality in society. Ukraine still has a significant volume shadow economy, which significantly impairs the socio-economic development of the state. Shadow economy has become one of the most acute economic and socio-political problems in Ukraine and poses a threat to the economic and national security of the state.
The shadow economy is present unevenly in different sectors of the economy. Determining the level of the shadow economy allows the government to identify which sectors have to be given priority.
The work based on the analysis of a significant array of analytical and statistical material. The problem of a significant level of shadowing of the economy in Ukraine is considered. The article describes the method of calculating the level of the shadow economy and compares the levels of the shadow economy in Ukraine from 2010 to 2020.
Authors study the causes and consequences of shadowing a country's economy and describe possible ways to overcome the negative phenomenon.
References
Varnaliy, Z.S. (2007) Shlyakhy detinizatsiyi ekonomiky Ukrayiny ta yiyi osoblyvosti. Bankivsʹka sprava. № 2. Рр. 56-66.
Predborsʹkyy, V. A. (2005) Detinizatsiya ekonomiky v konteksti transformatsiynykh protsesiv. Pytannya teoriyi ta metodolohiyi: [monohrafiya] : K.: Kondor. 614 р.
Borodyuk, V. Ets (1997) stanu tinʹovoyi ekonomiky Ukrayiny ta metody rozrakhunkiv yiyi obsyahiv; NAN Ukrayiny, In-t Rosiyi. - K. : [b. y.]. Vyp. 3. 138 p.
Feige Edgard L. (1990). Definining and EstimatingUnderground and Informal Economies: The New Institutional Economic Approach, World Development, 18. N 7. – Р. 990.
Gutmann, Pierre M. (1997) The subterranean economy. Financial Analysts Journal. – 1977.
Hodme, P.M. (1978) Finansove pravo. Per., vstup. st.: Khalfyna R.O. M.: Prohress, pp. 399-406.
Gutmann, Pierre M. The subterranean economy. Financial Analysts Journal. 1977.
Moroz, O.V., Semtsov, V.M. Tinʹova ekonomika: struktura, zmist, ta osoblyvosti funktsionuvannya. Ekonomika APK. №3. Pp. 96 – 102. URL: http://dspace.tneu.edu.ua/bitstream/316497/9871/1/Semtsov1.pdf.
Pirnykoza, P.V. (2016) Prychyny znachnykh obsyahiv tinʹovoyi ekonomiky v Ukrayini ta shlyakhy yikh usunennya: fiskalʹni aspekty. Efektyvna ekonomika. №4. URL: http://www.economy.nayka.com.ua/?op=1&z=4918.
Tendentsiyi tinʹovoyi ekonomiky. Vydannya Ministerstva ekonomiky Ukrayiny. URL: https://www.me.gov.ua/Documents/List?lang=uk-UA&id=e384c5a7-6533-4ab6-b56f-50e5243eb15a&tag=TendentsiiTinovoiEkonomiki.
Mastercard Shadow Economy. ESI ThoughtLab. URL: https://econsultsolutions.com/mastercard-shadow-economy/.
Savych, O.V., Savych, I.V. (2015) Osnovni chynnyky ta shlyakhy protydiyi tinizatsiyi ekonomiky. Efektyvna ekonomika № 2. URL: http://www.economy.nayka.com.ua/?op=1&z=3827.
Sorokina, L.V., Yermoshenko, M.M., Chyzhov, O.V., Yermoshenko, A.M. (2014) Mekhanizm vplyvu bankiv i strakhovykh orhanizatsii na znyzhennia tinovykh hroshovykh potokiv. K. : Natsionalna akademiia upravlinnia, 304 p.
Vasenko, V. K. (2016) Tinova ekonomika Ukrainy ta shliakhy yii detinizatsii. Visnyk Cherkaskoho universytetu. Seriia : Ekonomichni nauky. Vyp. 1. Pp. 15-23.
Zhalilo, Ya. A. (2018) Tinova ekonomika yak "instytutsiina pastka" na shliakhu ekonomichnoi modernizatsii. Ekonomichna teoriia. № 2. Pp. 22-40.
Ursakii, Yu. A. (2018) Tinova ekonomika: chynnyky tinizatsii ta shliakhy detinizatsii. Visnyk Chernivetskoho torhovelno-ekonomichnoho instytutu. Ekonomichni nauky. Vyp. 1-2. Pp. 44-51.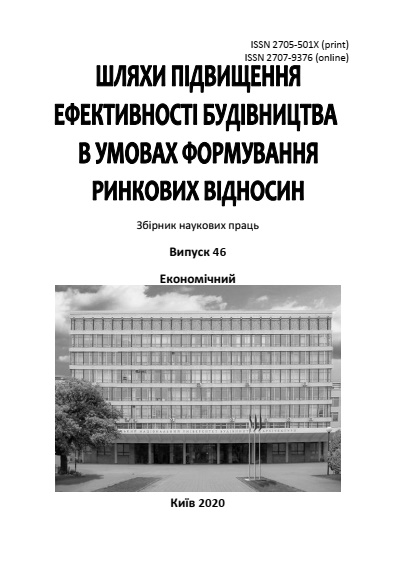 Downloads
How to Cite
Golovash, B. ., Ivantsov, D. ., & Golovash, L. . (2021). The ways of solving the problem of Ukraine's economy de-shadowing. Ways to Improve Construction Efficiency, (46), 176–187. Retrieved from http://ways.knuba.edu.ua/article/view/228436
License
This work is licensed under a Creative Commons Attribution 4.0 International License.
Authors who publish with this journal agree to the following terms:
Authors retain copyright and grant the journal right of first publication with the work simultaneously licensed under a Creative Commons Attribution License that allows others to share the work with an acknowledgement of the work's authorship and initial publication in this journal.
Authors are able to enter into separate, additional contractual arrangements for the non-exclusive distribution of the journal's published version of the work (e.g., post it to an institutional repository or publish it in a book), with an acknowledgement of its initial publication in this journal.
Authors are permitted and encouraged to post their work online (e.g., in institutional repositories or on their website) prior to and during the submission process, as it can lead to productive exchanges, as well as earlier and greater citation of published work (See The Effect of Open Access).