Production system of apartment house as an enterprise
Keywords:
house, enterprise, real estate, owner, management, relations
Abstract
The specific problems of apartment building management in Ukraine, which arose as a result of housing privatization using the approaches of civil rather than commercial law, are considered. The recognition of the apartment as real estate, the organization of house management through the voluntary creation of condominiums in the form of a public organization; absence of land and house as real estate in the account of the subject of ownership and management are criticized. The analysis of the literature showed the need for a profound rethinking of ways to improve home management.
The purpose of the article is to consider an apartment building as a primary object of ownership and as a production system, an economic and not public organization, enterprise. The methodological approach in substantiating the ways to solve the problem and in formulating conclusions is to compare these alternatives of joint ownership with the use of the provisions of system analysis, models and organizational and legal forms of enterprises.
It is shown that in the housing sector as a production subsystem of the sphere of social production, and in it - in the multi-apartment housing stock as a subsystem, the house is their element. Home management is mostly organized by apartment owners as a joint household or condominium. However, a modern apartment building in a business environment is a complex production system that has all the functional features of a business organization-enterprise, and the ownership structure can function most effectively on a corporate model in the form of a joint stock company.
Conclusions on the incapacity of the current model of ownership and management of an apartment building, the need to improve the model of condominiums as a subject of management of the object - a condominium; formation of a new segment of corporate-owned houses in joint households are formulated.
References
Про приватизацію державного житлового фонду. Закон України від 19.06.1992 № 2482-XII. URL: https://zakon.rada.gov.ua/laws/show/2482-12#Text
Леонтьева Е.А. Концепция единого объекта недвижимости в германском гражданском праве. Право. Журнал Высшей школы экономики, 2011, №2, С. 122-140.
Бабак А.В. Адаптація вартісно-орієнтованого управління підприємством до об'єктів житлової нерухомості : автореф. дис. ... канд. екон. наук : 08.00.04. Київ, 2021, 19 с.
Коментар до Цивільного кодексу України. URL: https://legalexpert.in.ua/komkodeks/gk/79-gk/361-1.html.
Ніколаєв В.П., Щербина А.А. Моделі формування прав і відносин власності в управлінні об'єктами житлової нерухомості. Інтернаука. Серія: "Економічні науки", 2020, №6 (38), С. 86-96.
Щербина А.А., Бабак А.В. Реалізація моделей власності на житлову нерухомість у вітчизняній і зарубіжній практиці управління. Вісник Хмельницького національного університету, 2020, № 3, С. 203-218.
Про об'єднання співвласників багатоквартирного будинку. Закон України від 29.11.2001 № 2866-III. URL: https://zakon.rada.gov.ua/laws/show/2866-14#Text.
Николаев В.П., Щербина А.А. Многоквартирные дома и многоэтажные жилые комплексы как предприятия. Инновационное развитие и структурная перестройка экономики: материалы XXV Междунар. науч.-практ. конф. 29–30 апр. 2021 г. / под общ. ред. Н. Г. Синяка. Минск: РИВШ, 2021, С. 108-113.
Nikolaiev V. et al. Transforming real property into housing and utilities payments in Ukraine. Virtual AsRES-GCREC-AREUEA Joint International Real Estate Conference "Future of Real Estate: Impact of Technologies and Global Changes", July 18 – 21, 2021, Singapore.
Сыроежин И.М. Очерки теории производственных организаций. М.: Экономика, 1970, 247 с.
Петрович Й.М., Захарчин Г.М. Організація виробництва : підручник. Львів: «Магнолія плюс», 2005, 400 с.
Бардаш С. В., Осадча Т.С. Класифікація господарських систем як інтегрованого об'єкта державного господарського контролюю Інвестиції: практика та досвід, № 19, 2011, с. 21-24. URL: http://nbuv.gov.ua/UJRN/ipd_2011_19_8.
Олійник Т. І., Копильченко К. І. Оптимізація виробничих систем — перехід до бережливого виробництва: теоретичний аспект становлення та розвитку вітчизняних підприємств. Інвестиції: практика та досвід, 2017, № 23, С. 65-68.
Фінансовий менеджмент проектів і програм : навч. посіб. / В. П. Ніколаєв, Т. В. Ніколаєва, Г. І. Євтушенко, Л. О. Попович : 2-ге вид., допов. ; Університет державної фіскальної служби України. Ірпінь, 2019, 400 с.
Ніколаєва Т.В. Науково-методичні основи управління господарськими системами домоволодіння. Дис….канд. екон. наук. 08.00.04. Київ, 175 с.
Житлове господарство. URL: https://dzki.kyivcity.gov.ua/content/zhytlove-gospodarstvo.html.
Господарський кодекс України. URL: https://zakon.rada.gov.ua/laws/show/436-15#Text.
Щодо статусу ОСББ як учасника відносин у сфері житлово-комунальних послуг. Мінбуд.та ж-к господарства; Лист від 26.04.2011 № 7/15-4687. URL: https://zakon.rada.gov.ua/rada/show/v4687846-11#Text.
Що таке ОСББ? Правові та організаційні засади створення і діяльності ОСББ. URL: https://uka.in.ua/news/dev/shcho-take-osbb-pravovi-ta-orhanizatsiyni-zasady-stvorennya-i-diyalnosti-osbb.html.
Протокол. Юридичний інтернет ресурс. URL: https://protocol.ua/ru/vs_kas_osbb_e_ob_ednannyam_gromadyan_meta_stvorennya_ta_diyalnist_yakogo_pov_yazani_iz_zabezpechennyam_i_zahistom_prav_spivvlasnikiv_budinku_a_tomu_vono_moge_zvertatisya_do_sudu_v_interesah_svoih_chleniv_(vs_kas_815_219_17_24_03_18).
Науково-практичний коментар до статті 3 Господарського кодексу України. URL: https://ips.ligazakon.net/document/KK003769.
Філософський енциклопедичний словник. Інститут філософії ім. Г.С. Сковороди НАНУ. Київ, «Абрис», 2002, 751 с.
Касьян В. І. Філософія : відповіді на питання екзамен. білетів : навч. посіб. 5-те вид., випр. і допов. Київ: Знання, 2008, 347 с.
Несинова С. В., Воронко В. С., Чебикіна Т. С. Господарське право України. Навч. посіб. / за заг. ред. С. В. Несинової. К.: Центр учбової літератури, 2012, 564 с.
Ковальчук В. Підприємство як цілісний майновий комплекс: суб'єкт чи об'єкт прав? Історико-правовий часопис, 2014, № 1, С. 84-88.
Спасібо-Фатєєва І. В. Підприємство як цілісний майновий комплекс. Юридичний радник. № 6 (54), 2010, С. 23–25.
Кучеренко І. М. Підприємство – об'єкт чи суб'єкт цивільних прав. Держава і право, 2012, Вип.. 16, С. 175–179.
Cambridge Dictionary. Enterprise. URL: https://dictionary.cambridge.org/ru/словарь/английский/enterprise.
Тихомиров М.Д. Правовое положение органов управления акционерного общества. Дис…. канд. юр. Наук, 12.00.03. Спб, 2005, 189 с.
Давыдов В.А. Правовая природа отношений между хозяйственными обществами и их участниками. Автореф. дис. ... канд. юр. наук, 12.00.03. Екатеринбург, 2008, 26 с.
Петрова Е.Н. Правовое регулирование отношений между хозяйственным обществом и его управляющей организацией. Автореф. дис. ... канд. юр. наук , 12.00.03. Екатеринбург, 2008, 28 с
Могилевский С.Д. Органы управления хозяйственными общест-вами: правовой аспект. Дис. …докт. юр. наук 12.00.03. М.: 2001, 376 с.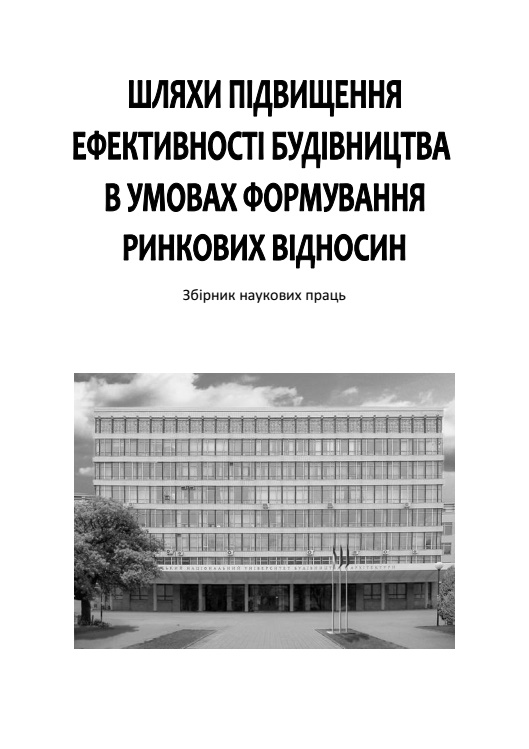 Downloads
How to Cite
Shcherbyna , A. (2021). Production system of apartment house as an enterprise. Ways to Improve Construction Efficiency, 2(47), 145–166. https://doi.org/10.32347/2707-501x.2021.47(2).145-166
License
This work is licensed under a Creative Commons Attribution 4.0 International License.
Authors who publish with this journal agree to the following terms:
Authors retain copyright and grant the journal right of first publication with the work simultaneously licensed under a Creative Commons Attribution License that allows others to share the work with an acknowledgement of the work's authorship and initial publication in this journal.
Authors are able to enter into separate, additional contractual arrangements for the non-exclusive distribution of the journal's published version of the work (e.g., post it to an institutional repository or publish it in a book), with an acknowledgement of its initial publication in this journal.
Authors are permitted and encouraged to post their work online (e.g., in institutional repositories or on their website) prior to and during the submission process, as it can lead to productive exchanges, as well as earlier and greater citation of published work (See The Effect of Open Access).